Reframing Life Through Tarot Blog
Welcome!
Our tarot reading blog is an easy way to see new pages we've added to the site and any important information we need to share. It keeps you abreast of updates, and frankly, there will be times you come here and read a new insight and realize it directly pertains to your life.
That is the magic of the tarot!
It speaks to you in unseen ways, so if you're feeling the tug to come read our latest articles there is probably a good reason why. :)
If you'd like to subscribe you can do that by clicking the orange RSS button on the right side of the page by "Recent Articles".
It only takes a second to subscribe and you'll have the newest tarot reading blog posts delivered to you in real time. Nothing easier!
Almost like... magic.
Nov 23, 2020
Five Of Swords Tarot Card Meaning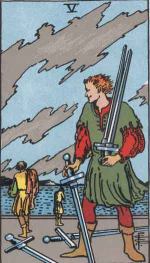 The Five Of Swords Meanings Are Not Very Positive, Centering Around Defeat, Conflict, And Confronting Loss. Learn More Here!