The Empress Tarot Card

The Empress tarot card shows a sovereign queen who rules over nature and natural fruitfulness. Her throne is surrounded with the lush greenness of grass underfoot and the forest behind her, the abundance of water in the river flowing beside her, and the great harvest of grains in front of her. Her scepter is a sign of her power, which is absolute. She is Mother Nature, so to speak. Her throne has the feminine symbol of Venus on it, which points to her connection with femininity. The pomegranates decorating her robe represent fertility.
The Empress Tarot Card Meanings- Creativity, fertility, abundance in all forms, happiness, and growth.

The Empress tarot card is one of the most optimistic cards in the tarot. It is almost always a 'yes' to your question. She is generally thought to be the mother card, which literally means that children or a pregnancy is possible. Otherwise, she is the definition of creativity in all its forms. While she enjoys her material possessions she never strays too far from nature, which she loves and is deeply connected to. When surrounded by nature she is at her strongest, and finds herself revived and energized by all the world's landscapes have to offer.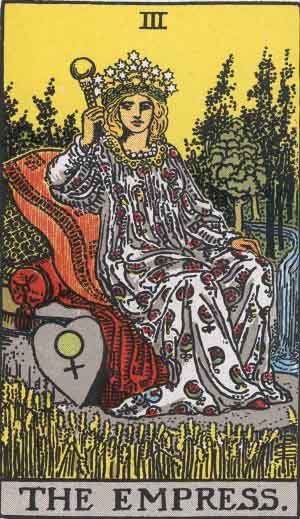 The Empress Tarot Card Meanings In A Reading

Love and Relationships- If you are asking about children this card upright is a resounding yes. However, all types of family planning can be considered when this card appears. Whether a natural birth or growing your own family through other avenues, The Empress says you will get what you want. For a single person questioning a relationship, The Empress shows you happiness in the days ahead and reminds you to stay optimistic.

Money and Career- Money and opportunities flow like water when this card is drawn. Projects, groups, and anything that requires your personal touch will succeed. This will come in handy when you start asking for raises or promotions. When searching for a job, The Empress tarot card is a positive sign that offers will start rolling in. Those offers will appear faster if you are applying for jobs that align with your higher purpose so keep that in mind when sending out your applications.

Health and Wellness- In terms of pregnancies or family planning you'll be healthy overall. Additionally, a mother figure in your life will be especially nurturing towards you during this time. Creation is a big component of this card so if you're wanting children and she shows up be sure you're ready because it's bound to happen.

Spirituality- As we look inward with The Empress you can be assured she says that possessing feminine qualities, such as a nurturing spirit or the natural ability to make others feel secure, is part of your personality. You are an emotional safe haven for others. She is the card that will emphasize the caring and tender parts of your nature, which is especially helpful when caring for yourself emotionally, as we tend to be most critical of ourselves. Bask in the comfort this part of your personality brings to your life.

The Empress Tarot Card Meanings Reversed- Stalled progress, creative blocks, elevated stress, infertility, and overbearing people.

Because The Empress is a strong presence upright, reversed she can also represent a strong presence to the opposite and highlight someone who is overbearing or smothering. This can be your own trait, especially in stressful situations, or can be about a person in your life to whom you have a special attachment. The Empress tarot card reversed can also be a sign of infertility, having issues conceiving, or domestic problems. Strife in relationships to put it bluntly. Expect challenges to manifest or a lack of growth in creative endeavors.

Love and Relationships- It's likely your home life is having some issues, whether with your spouse, your parents, your siblings, or your children. This could be caused by the inability to have privacy or quiet time when you need it. Questions about children could be either a "no" or a "not yet", but don't lose hope. This powerful card is still positive even when reversed and things can change for you.

Money and Career- Take some precautions and slow down your spending habits. Reevaluate your finances and see where you can do better, especially if you're saving to have children or pursue a large creative endeavor. You need money to live while living out your dream. You may also run into some legal issues so keep your eyes peeled for situations where this may arise.

Health and Wellness- There's too much stress being put on you. Is it you burdening yourself? Are you saying "yes" to too many things and can't juggle all your commitments? Is your boss heaping more work on you when you're clearly unable to perform to their standards? If so, it's time to step back and put yourself first. Say no, speak frankly with your boss/loved ones/friends and let them know what you need. Stress is a killer but receiving this warning means you have time to change things. Alternatively, you might be the kind of person who over-nurtures others and puts yourself on the back burner. This would be a time to step back and let people come to you when they are ready for your hands-on comfort and support.

Spirituality- You need to get back to nature to decompress and recharge. Material possessions and worries have started to take over and it's affecting your ability to manifest the things you want in your life. Spend some time taking a walk or get out out of town for a camping trip. Head up into the mountains to hike or hit the slopes for skiing break. Basically, anything that will get you outside the house and back in the natural elements of sunshine & fresh air. It will do your soul a world of good.

Need More Information?
"I'm still not sure what this means for me."
"I don't want to learn to read tarot, I want a professional reading!"
"I'd like more information about the tarot."

If this sounds like you we have the perfect solution! First, tell us a little about yourself. Next, received your personalized tarot readings straight to your inbox every month. If you read your daily horoscope you need a monthly tarot reading! You will get a reading immediately upon signing up and on the first of the month, every month thereafter. Make life easy on yourself and "set it and forget it".