The High Priestess Tarot Card

The High Priestess tarot card depicts a highly intuitive woman, draped in blue ceremonial garb, between two pillars. This card usually represents the divine feminine in all of us. The pomegranate fruits that cover the background of her throne protect her from the distractions of the outside world. The crescent moon resting by her feet reminds her to keep her focus on inner reflection. The High Priestess urges you to remember you're a spiritual being above everything else. Taking care of this facet of your humanity will amplify your experience in the outside world.

The High Priestess Tarot Card Meanings- Divine intuition, ultimate spirituality, a connection between the soul and mind, new understanding, and the acquiring of information.
The High Priestess tarot card's overall message is wisdom. This wisdom comes mainly from within, but don't be surprised if it comes from other avenues. She wants you to keep your spiritual growth to yourself for the time being. Think of it as self-care as you reflect inwardly without outside opinions or persuasions. Make sure you are in a place where you aren't worried about privacy so you can truly focus on yourself. The best knowledge comes from our subconscious selves to our conscious selves.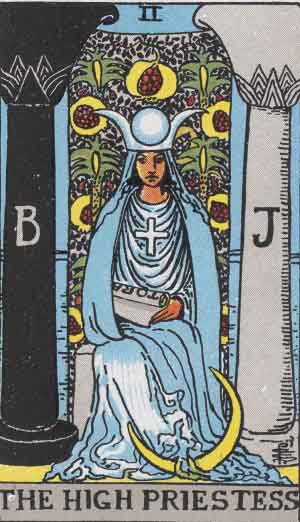 The High Priestess Tarot Card Meanings In A Reading

Love and Relationships- The High Priestess is generally a single person. If you are in a relationship this could symbolize the need to step back for a minute and gather yourself before moving forward with your partner. If you are newly single it is especially encouraged to take time for yourself to center and refocus before seeking a new romantic connection.

Money and Career- Be patient before accepting any new offers or taking on a new venture. You'll get what you're going after but hold on a little longer and weigh every option. Again, relying on your inner voice is the key. That wisdom will protect you from making a hasty decision.

Health and Wellness- The theme remains that you're being asked to slow down and wait it out. Wellness starts from within. Begin by taking a moment and letting your body tell you what it needs. Do you have a doctors appointment you've been avoiding? Perhaps you feel guilty not using that treadmill in the corner of the room. Those feelings weigh on you for a reason. Be calm, look inward, and see what they are trying to tell you.

Spirituality- While you are your best teacher, on your spiritual path The High Priestess can indicate someone you will find to be a teacher, leader, or mentor. You may become more aware of your guides in the physical world and find it easier to connect with them. This is the beginning of your spiritual journey and it's important to honor the space you're in now.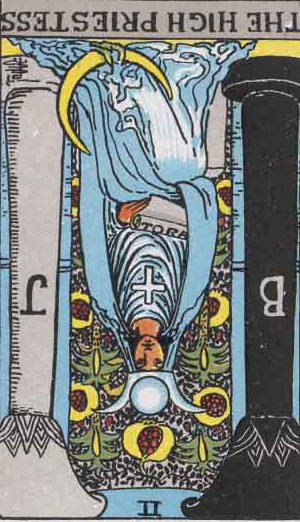 The High Priestess Tarot Card Meanings Reversed- The wrong path, cut off from wisdom, false teachers, receiving the wrong information, and stunted spiritual growth.

When reversed, The High Priestess shows that something has disturbed your connection with your inner self. People could be giving you bad advice and you're listening more than you normally would. Your privacy could be at risk, so take a look around for red flags. Be sure not to let anyone throw you off your own journey or sever your connection with your guides. You may also need to let some information go, like secrets or anything that could be hurting you or the people around you.

Love and Relationships- A relationship is holding you back or you aren't following your intuition regarding it. Let this person know what you've been keeping from them if these secrets are causing you to withhold affection, trust, or vulnerability. However, you may also need to cut ties with toxic people. These people don't deserve your secrets or your psychic energy.

Money and Career- The High Priestess reversed can show that your finances have gotten out of control. Spending needs to be reined in and any business ventures you are considering could be led by false information. Double check your business partners and business plans for any discrepancies. If you do not, this information will directly affect your success. Do not accept any new offers or business advice until you check in with people you trust.

Health and Wellness- Your soul-center is suffering. Consider looking into a meditative practice or talking to a spiritual leader or teacher. With more serious medical issues, ask your doctor about holistic services that can be used along with your treatment. Sometimes our psychic illnesses manifest physically so develop a plan where traditional and alternative medicine is working together to get you right again.

Spirituality- Sometimes our teachers are not who we think they are. Take caution when speaking with them or sharing any of your personal struggles. Go back to your original teacher, yourself. Also, be patient with yourself. Give yourself time to get back on your best spiritual path.

Need More Information?
"I'm still not sure what this means for me."
"I don't want to learn to read tarot, I want a professional reading!"
"I'd like more information about the tarot."

If this sounds like you we have the perfect solution! First, tell us a little about yourself. Next, received your personalized tarot readings straight to your inbox every month. If you read your daily horoscope you need a monthly tarot reading! You will get a reading immediately upon signing up and on the first of the month, every month thereafter. Make life easy on yourself and "set it and forget it".