The Hermit Tarot Card

The Hermit tarot card shows the hermit, who is a wanderer and has the wisdom to prove it. He is an eternal seeker of inner truth and the path ahead. Perched on top of a summit he has reached the pinnacle of his search. He never looks back but he does look at the path below that he traversed up to the point where he now stands.  He holds a lantern and a staff, both yellow. The soft illumination from the lantern is mirrored in his staff showing these items are essential to his travels; they are his trusted assistants. The deep reflection of his journey is evident on his face and he holds the lantern out to remember, and perhaps provide some light to those who may be on the path below.
The Hermit Tarot Card Meanings- Healthy isolation, inner reflection, healing, direction, and purpose.

The Hermit tarot card is the card of self-exploration. It is all about the inner journey and the trials you'll go through to achieve personal growth. You are being encouraged to take time away from the world and retreat, retreat, retreat. The healing has to come from you. We all are dark on the inside before we find our light, our way, our path. This card is urging you to do that.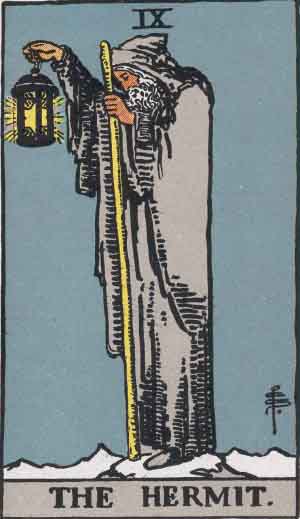 The Hermit Tarot Card Meanings In A Reading

Love and Relationships- The short answer for all relationships is that you need to be alone. Give yourself the space to regroup even if things are going great. It's important to step back even when there's nothing immediately wrong to examine the situation and see what pops out at you. It can be a time of gratitude that all is well or a time of reflection for those things that need work in your relationship.

Money and Career- Any and all exchanges or purchases should be saved for later. Take time to consider all of the options and consult your conscience before making a decision. You should also put a hold on business calls or meetings. Others may say you have to act now but everything can wait a moment while you take a step back and analyze the situation and options.

Health and Wellness- Your physical body may be thriving, and it likely is, but your mind needs to be calmed and caressed. You will benefit from meditation or a holistic regression. If you do nothing else, take a moment to consider your true feelings about your life and honor the space those feelings put you in.

Spirituality- Search for the light, literally and figuratively. Enlightenment is generally an earned distinction, it does not appear to non-seekers. Spend a few moments in meditation, prayer, or transcendence to find it. You may also be looking for a teacher or a leader. In this case, the answer is yes, you will find one.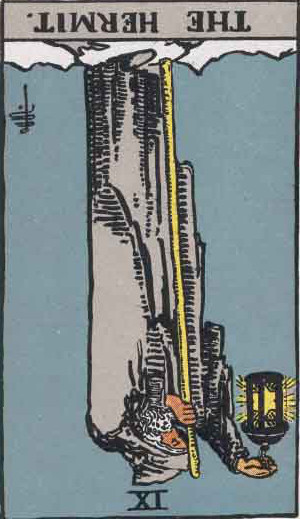 The Hermit Tarot Card Meanings Reversed- A disconnection from inner wisdom, unhealthy isolation, stubbornness, and over-reliance on yourself.

The Hermit tarot card reversed can represent someone who keeps to themselves in an anti-social way. They have an unhealthy disconnect from the rest of the world. You may be regressing too much into yourself and have willfully withdrawn from most social interactions. You may also be following advice that is moving you farther from your purpose.

Love and Relationships- You may be cutting yourself off from people who love and support you. Focus on coming out of your shell and letting people in. It doesn't do any harm to build some connections. Alternatively, you may have been leaning on people who are energy vampires. Pull back and regain your control in these cases.

Money and Career- You do not trust yourself enough to make any big financial or career changes. Take a moment to regroup. You may be getting pushed to the end of the line or are not being recognized for your work. If you want to be noticed, make bolder choices and make sure you receive the credit.

Health and Wellness- When The Hermit tarot card is reversed in a health reading, this always points to mental challenges. You may have a condition that affects your mental health or are enduring stress that is excessive. You  need to be more consistent in your personal care and any plans your doctor has helped prepare for you. Don't deviate, stay the path, and reach out to a professional for additional help.

Spirituality- You are being asked by a higher power to become more self-aware or you have asked for the ability yourself. This card indicator of the perfect time to explore those depths within yourself. Be cautious that you don't fall too deep down the rabbit hole and get so introspective you lose sight of the world around you. The good thing is it's within your power to come back and reground yourself. Stay present.

Need More Information?
"I'm still not sure what this means for me."
"I don't want to learn to read tarot, I want a professional reading!"
"I'd like more information about the tarot."

If this sounds like you we have the perfect solution! First, tell us a little about yourself. Next, received your personalized tarot readings straight to your inbox every month. If you read your daily horoscope you need a monthly tarot reading! You will get a reading immediately upon signing up and on the first of the month, every month thereafter. Make life easy on yourself and "set it and forget it".