Ace Of Pentacles Tarot Card

The Ace of Pentacles tarot card shows a large hand emerging out of wispy clouds, cradling a huge gold coin emblazoned with a a five-point star, the pentacle. Beneath this lies a green grassy garden with white peace lilies growing in the foreground. In the background is a verdant hedge, through which an archway has been carved leading to mountains in the far distance.

Ace of Pentacles Tarot Card Meanings- Good luck, success, prosperity, possibility, new opportunities, victory, career change, good health,  and recognition.

The Ace of Pentacles is an extremely fortunate card to draw when you're concerned with financial matters. It bodes very well for the financial future of the querent because it is the symbol of affluence, positivity, and prosperity.  Additionally, the ace of any suit implies a fresh start, or new beginning, so if you're looking to start a business or change jobs this card will positively affect all the others in your reading towards that direction. Because Pentacles are representative of the material world you can expect things such as your physical health, money/wealth, and material possessions to be affected.

Ace Of Pentacles Tarot Card Meanings In A Reading
Love & Relationships- The Ace of Pentacles signifies that you will have a new beginning as regards matters of the heart. You will meet someone who will make you feel safe and secured. You have a chance to focus more on improving yourself and flourishing in your relationship together. The general theme of security and trust will be evident in your relationships, especially your closest ones.

Money & Career- The chance to begin something more profitable is going to occur, whether it is starting a business, expanding a business, or changing careers. However, it's important to remember that while the Ace of Pentacles portends a new beginning, that beginning has not happened yet. It's time to sow the seeds to ensure it will happen. Start sending out those resumes, meet all your objectives on your annual review, or apply to school in order to get your degree. Whatever path you choose, now is the time to take the first step.

Health & Wellness- This card brings a great deal of comfort to those suffering physically. One of it's most important takeaways is that it's time to consider all your options. You know that saying "when one door closes, another opens"? If you're finding no current relief in your health struggles take a step back and consider all your options. Entertain the idea of alternative healing options (and do not be afraid to share them with your medical providers. Many will be supportive of your choices.). You will get the answers you're looking for.

Spirituality- In a similar vein to the Health & Wellness interpretations, it's a good time to try new methods or experiment with new practices to deepen your spirituality. Is there a modality you've aways been curious about? Pick up a book, or listen to a podcast, or watch a video about it. The doors are open to you trying new things and benefitting from them.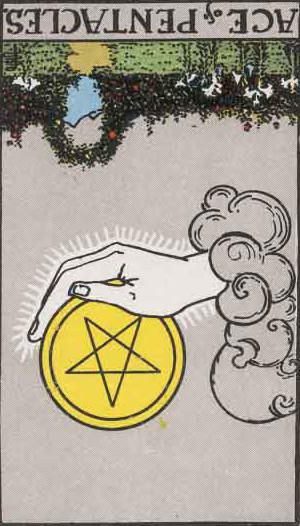 Ace of Pentacles Tarot Card Meanings Reversed- Greed, materialism, loss of opportunity, financial delays, stagnant income, dissatisfaction, and lesser degrees of success materially.

When reversed, the Ace of Pentacles shows missed opportunities and stagnation. These are not likely to be huge setbacks but they are a warning that something is standing in your way. If "the love of money" is driving your decisions and emotions take the second part of the saying, "is the root of all evil", to heart. You will not be successful with the wrong motives driving you forward.

Love & Relationships- For singles, this can indicate you'll have opportunities for love but you did not make turning those opportunities into success a priority. Perhaps you were hurt by a previous relationship and now you have trust and security issues. Your vulnerability and anxiety will stop you from trusting new lovers, especially if you're moving too quickly. Offset the prediction of failure by giving yourself ample time to get to know people. The trust will come naturally. Couples, you're probably feeling a bit insecure and unstable in your commitment. The biggest issues you will be confronted with are selfishness, greed, and jealousy.

Money & Career- The Ace of Pentacles when drawn inverted indicates that you need to be proactive and think about your opportunities at work. Now is the time to start planting the seeds of change. If you neglect to do so your goals of promotion are at risk of being delayed or completely ruined. You'll also likely be seeing changes at work such as redundancy, furloughs, and lay-offs. Hedge your bets and have a Plan B ready. You might not be able to drastically increase your financial standing but you will avoid major setbacks and losses, so consider holding steady a win.

Health & Wellness- Upside down, this tarot card means that you are probably ignoring your health problems. They're not that big or bothersome, right? You'll worry about it if they get worse. Maybe you have a funny feeling that you're going to get bad news. Well, it's time to face the music and get these issues looked at by a professional. If they are nothing you'll have peace of mind. If they are *something* you'll be able to treat them. Don't let the chance to be proactive pass you by.

Spirituality- Right now your spiritual growth may be halting. You're feeling stuck. You're feeling unfulfilled. To relieve yourself from the feelings of "stuck in a rut" it's time to try something new. It will be slow going as you learn your new techniques, but the satisfaction will come the longer you stick with it. Explore various spiritual views, or gurus, or modalities. These perspectives will enrich you and will greatly influence how you will explore your spiritual path.

Need More Information?
"I'm still not sure what this means for me."
"I don't want to learn to read tarot, I want a professional reading!"
"I'd like more information about the tarot."

If this sounds like you we have the perfect solution! First, tell us a little about yourself. Next, received your personalized tarot readings straight to your inbox every month. If you read your daily horoscope you need a monthly tarot reading! You will get a reading immediately upon signing up and on the first of the month, every month thereafter. Make life easy on yourself and "set it and forget it".